One Vegan Night in Jardins du Provence
Cocktails, beers and wines available
On Friday, 20 of September, we'll have another vegan night with 4 Vegan French Provence🇫🇷 , dishes starting at 18:00 to 21:00.
There will also vegan cocktails, beers and wine available🥂🍹🍸.
🌸🌼🌸One Night in Vegan in the French Countryside🌸🌼🌸
The concept of the dinner came up after researching for a holiday destination in the summer. While on researching for food inspirations, I got caught by the endless sight of lavander fields. French people, as much as italians, are real pros when it comes to enjoy a nice dinner, in good company, sipping a glass of white or red wine, while the fresh and aromatic nature around them fills the air with a magic atmosphere. So there we go, a menu thought to recreate a little bit of that magic.
The menu for the Evening
A suggestive night savouring tipical dishes and ingredients from romantic and elegant Provence.
First course: Roasted tomato and herbs soup, with oat creme fraiche and freshly toasted crostini.
Traditionally, french people always start their meals with soup. It prepares the palate and the stomach to receive the rest of the meal, warm in colder months, and fresh and cooling during summer, this is an excellent way to taste a light but impressively tasty first course.
Allergens: gluten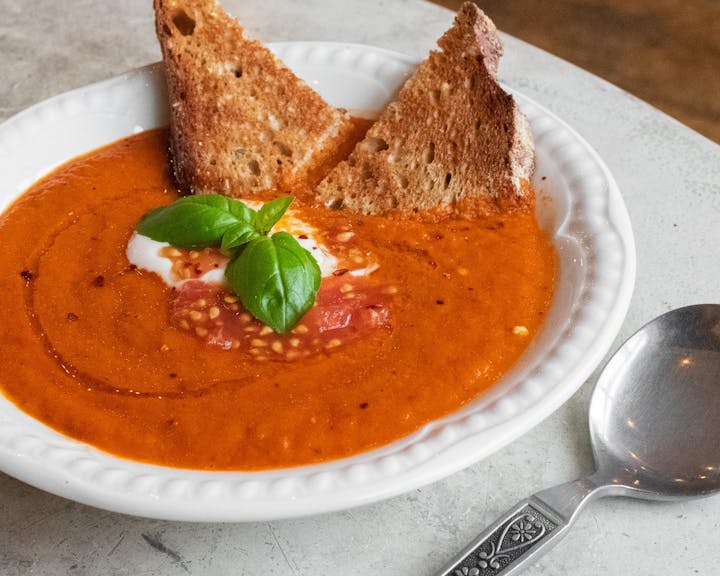 Second course: Artichoke bechamel linguine, with fresh parsley and lemon zest
This elegant and delicate dish is like dining of a beautiful veranda, facing a typical french countryside landscape. The rich umami flavour of the artichoke is paired with a creamy, cheesy vegan bechamel, and the freshness of parsley on lemon zest.
Allergens: gluten, nuts, sulphur dioxide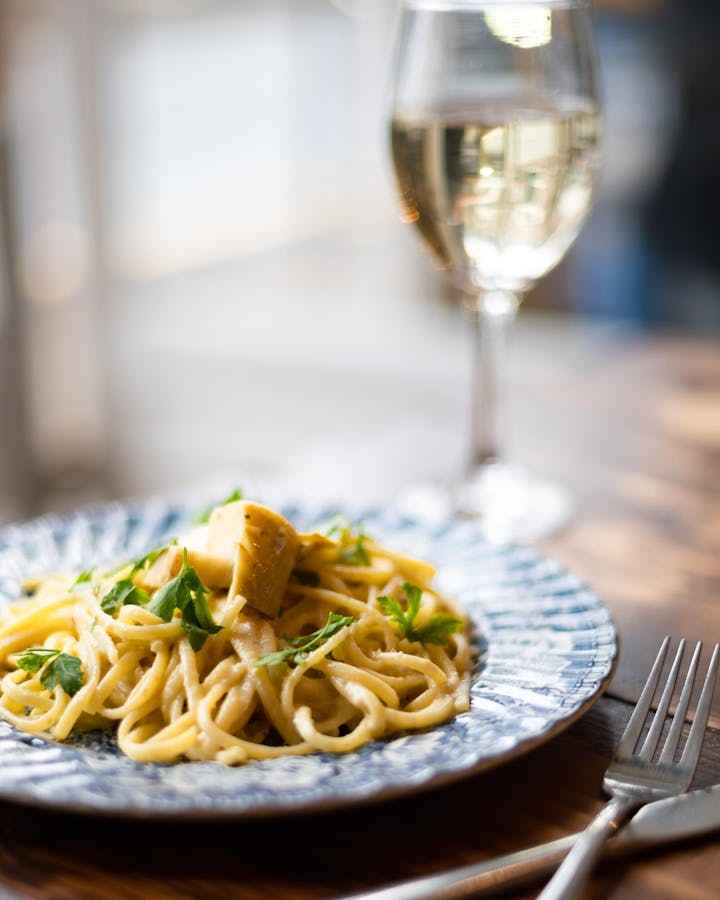 Third Course: Potato and herbs croquette, with a trio of dipping: tapenade, pistou and lemon cream.
Don't let yourself fool by the delicate sound of the dish. Here the palet is throughly fulfilled by the bold and rich flavour a tangy tapenade, a herby pesto and a creamy but citrucy lemon cream.
Allergens: nuts, sulphur dioxide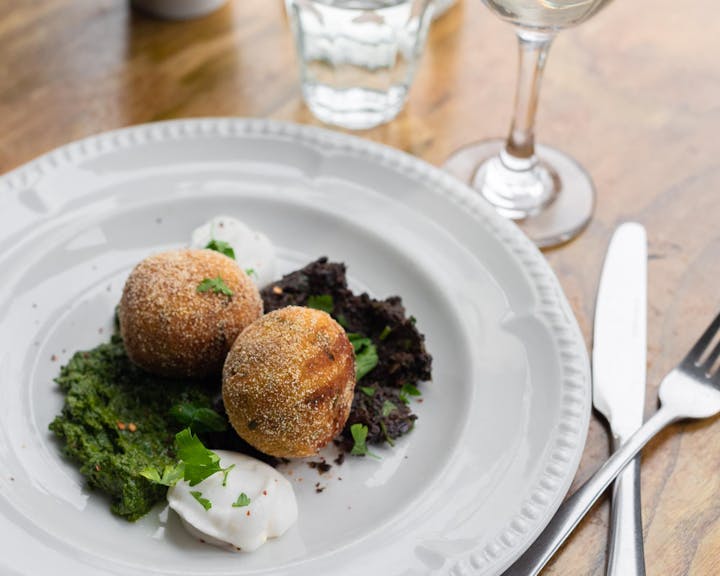 Fourth course: Vanilla and lavender creme brulée, with roasted figs and blackberries
This is a true lullaby for the senses. The calming properties of lavander and vanilla, go alongside with the natural sweetness of the figs and blackberries, with a refreshing touch of mint.
Allergens: nuts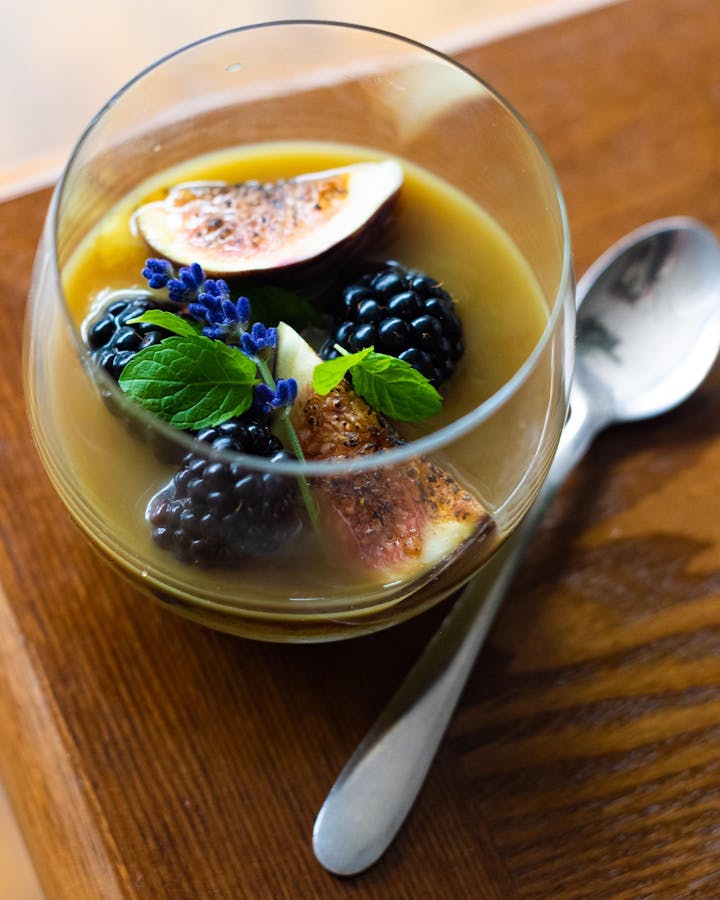 About our Chef for the Night: Simonetta Minarelli
My name is Simonetta, and I'm currently working as sous chef for a mediterrenean restaurant called Ottolenghi.
I've always loved eating, but the cooking passion came after I saw my husband (back then boyfriend) experimenting desserts in the kitchen. At the beginning I offered myself as an assistant, then I started to be more and more interested about the process of cooking, the chemistry that under rules it, the way that very simple ingredients, if wisely managed, can create such a wonderful experience.
So I joined a pastry course at Le Cordon Bleu London, and my years since then flew by. I graduated after 9 months, got a spot at Nobu London first, and then step after step landed at Ottolenghi.
My culinary experience taught me that it's the ingredients grown and prepared with love and dedication that make a dish truly remarkable, and also the know-how.
Recently I started my vegan journey, after watching a beautiful documentary on Netflix, entitled "Cowspiracy". And my main struggle so far has been with cheese. I love cheese. So I decided to do this menu with "cheese" in mind, in the ways I love it the most. There's no dish in the menu that doesn't have a "cheesy" component. In this way, I don't only get to try to create a deliscious cheeseness in a vegan way, but I get the chance to hear the response from you and learn from it.
So please enjoy your dinner and don't hold back the feedbacks.
Simonetta